Mixed Use Aldea Zama Land
USD $ 175,000
Bathrooms: 0
Size: 1638 square feet
HOA/Maintenance: $0 USD/Month
---
PROPERTY DESCRIPTION
This is a mixed-use lot in Aldea Zama, a modern jewel in the Riviera Maya. Aldea Zama is perfectly placed in Tulum, only an hour and half from Cancun International Airport, only 45 minutes from the cosmopolitan city of Playa del Carmen, one of the top destinations on the planet, and less than 2kms to the white powder sand of Tulum's beaches. Aldea Zama is a community in Tulum that offers single family, multi-family, and mixed-use commercial areas, so that everything you need, is right here! That's the beauty of this lot and the commercial area in Aldea Zama, this lot is intended for a restaurant, office, design studio, coffee bar or any commercial businesses you want space for, or to lease to on the ground level. The 2nd and 3rd levels can house 4 luxury apartments (or change the plans to suit your needs), in fact the drawings are already done!
Also available for negotiation are a beautiful design and full architect plans, ready for construction. The plans are for two commercial spaces, four luxury apartments with exclusive roof terrace complete with swimming pool, jacuzzi, barbecue and chill out zone! The lot measurers 152.18m2 (18.5m x approx. 8.225m)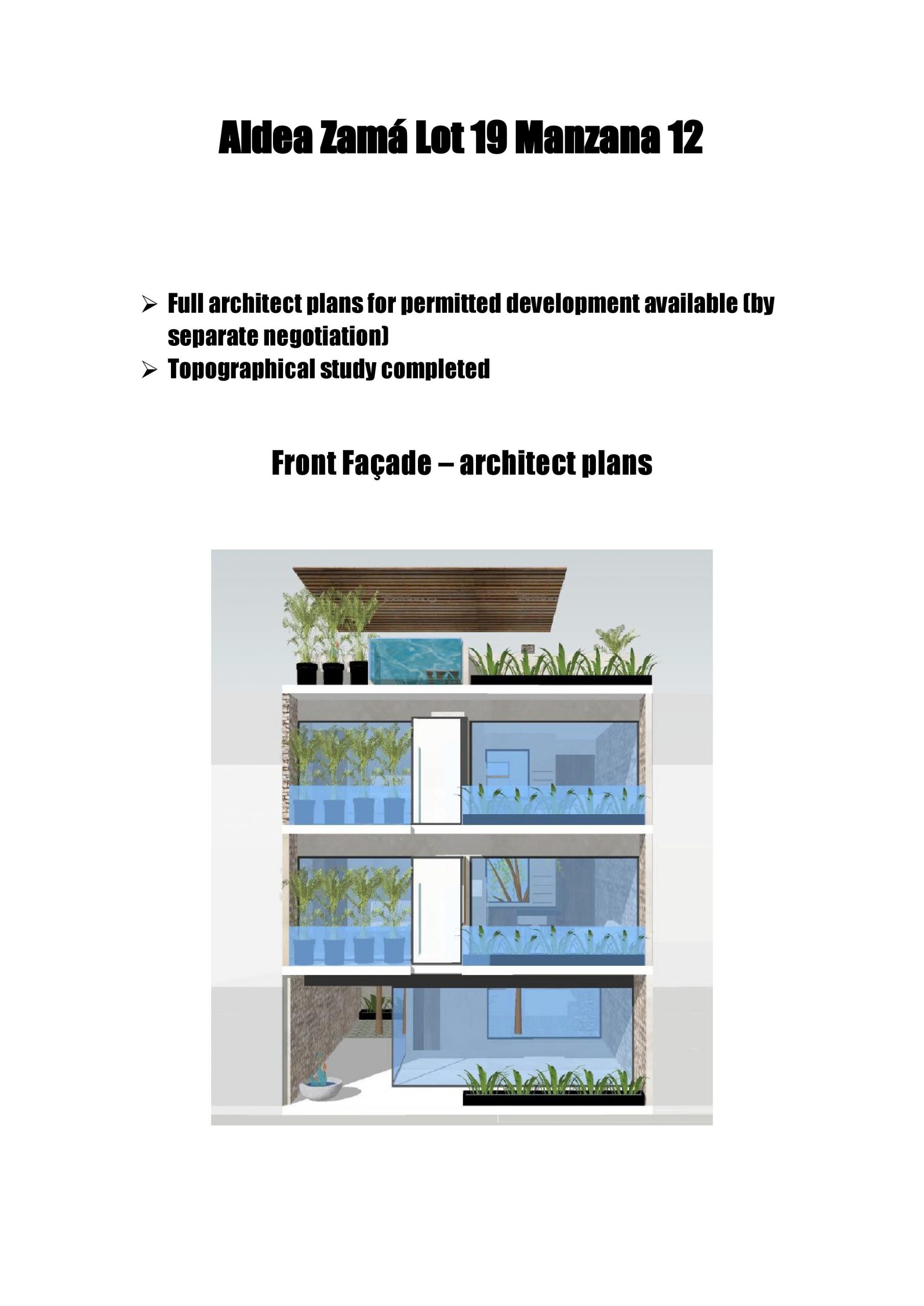 Cancun International Airport handled over 25 MILLION passengers in 2018 servicing more than 30 countries, only 5 years earlier, 15 million passengers used Cancun International. The growth has been colossal, and there are no signs of it slowing down. Playa del Carmen only 20 years ago had a population of 43,000 people, now there are over 300,000 residents. Tulum's first census was only as recent as 2010, that's how small and new it is… or was. In 2010 there were 28,000 residents, estimates are that there were less than 15,000 people only 5 years earlier. Estimates today suggest there are anywhere from 40,000-60,000 residents, but Tulum sees more than 2 million tourists every year (2.2M in 2017), and that number, like all the rest of them, just keeps growing.
Documents
Need financing? We have options for you! Just let us know and we'll provide you with the details.
CONTACT US
Or fill out our contact form and one of our agents will contact you as soon as possible.

Please contact our team for updated inventory on this or any other properties in the Riviera Maya. Information is deemed to be correct but not guaranteed. Riviera Maya Real Estate Group are your Tulum Real Estate experts.
WHAT OUR CLIENTS HAVE TO SAY
SIMILAR LISTINGS FOR SALE