Golf Riviera Maya – Golf Course Condos & Homes for Sale
This is a paragraph talking about golf in the Riviera Maya. Lusce consectetur leo eu quam sagittis tempus. Mauris augue felis, ultrices ac eros ut, semper feugiat diam. Phasellus venenatis enim risus, nec pretium urna maximus nec. Sed ultrices, nibh a finibus condimentum, metus augue tempor nibh, a egestas felis enim sed ipsum. Nunc lobortis nibh nisi, nec vehicula dui porta eget. Mauris faucibus turpis eget molestie viverra. Sed in metus in ligula efficitur ullamcorper sit amet id augue.
Riviera Maya Golf Club – Bahia Principe
Riviera Maya Golf Club is an impressive landscaping work in which the renowned Robert Trent Jones II has managed to create a spectacular synergy by integrating the golf course into the Mayan jungle, complete with natural lakes and cenotes. This golf resort, which includes another course featuring 9 par-3 holes, was recently acknowledged by Golf Digest magazine to be among the best resorts in Mexico and the Americas.
The club is integrated into Mexico's Bahía Príncipe complex and is located in the Riviera Maya area, about 15 miles from the town of Tulum, currently the trendiest tourist destination in the area.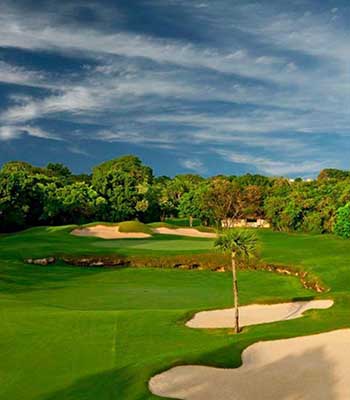 Hard Rock Golf Club – Playacar Phase 2
Hard Rock Golf Club Riviera Maya (before Playacar Golf Club) is an 18 holes (par 72) golf course designed by Robert Von Hagge and located in the Playa del Carmen's hotel zone, inside the beautiful complex or resort area of Playacar in the Riviera Maya.
The Club is surrounded by natural fauna and flora from the region and provides a first class practice area with a driving range, a large putting green for chipping, pitching, and green-side bunker areas.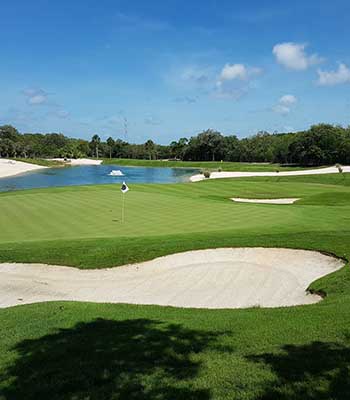 Gran Coyote Golf Club – Corasol
Gran Coyote Golf in Playa Del Carmen, Mexico, is an 18-hole Par 71 masterpiece artfully routed through the magnificent coastal jungle landscape.  Designed by three-time major champion Nick Price and built with a focus on minimizing its environmental impact, Gran Coyote Golf features well-manicured fairways and greens that seamlessly blend into the surrounding beauty.
Just steps away from the beachfront, Gran Coyote Golf challenges golfers with tricky winds, strategic bunkering and seven acres of water hazards spread throughout the course. The facilities at Gran Coyote Golf are top-notch, and use of the clubhouse and beach club with its many amenities is included. Gran Coyote Golf is truly one of the best golf experiences in all of Mexico.